Toronto Camera Club Annual Public Presentation 2023
A Photo Journey is the Toronto Camera Club's annual Public Presentation and fundraiser. Five amazing audio-visual presentations were created for this event by some of our club's most award-winning and talented photographers in this genre! Scroll Down to Purchase Tickets and to View Promotional Trailers.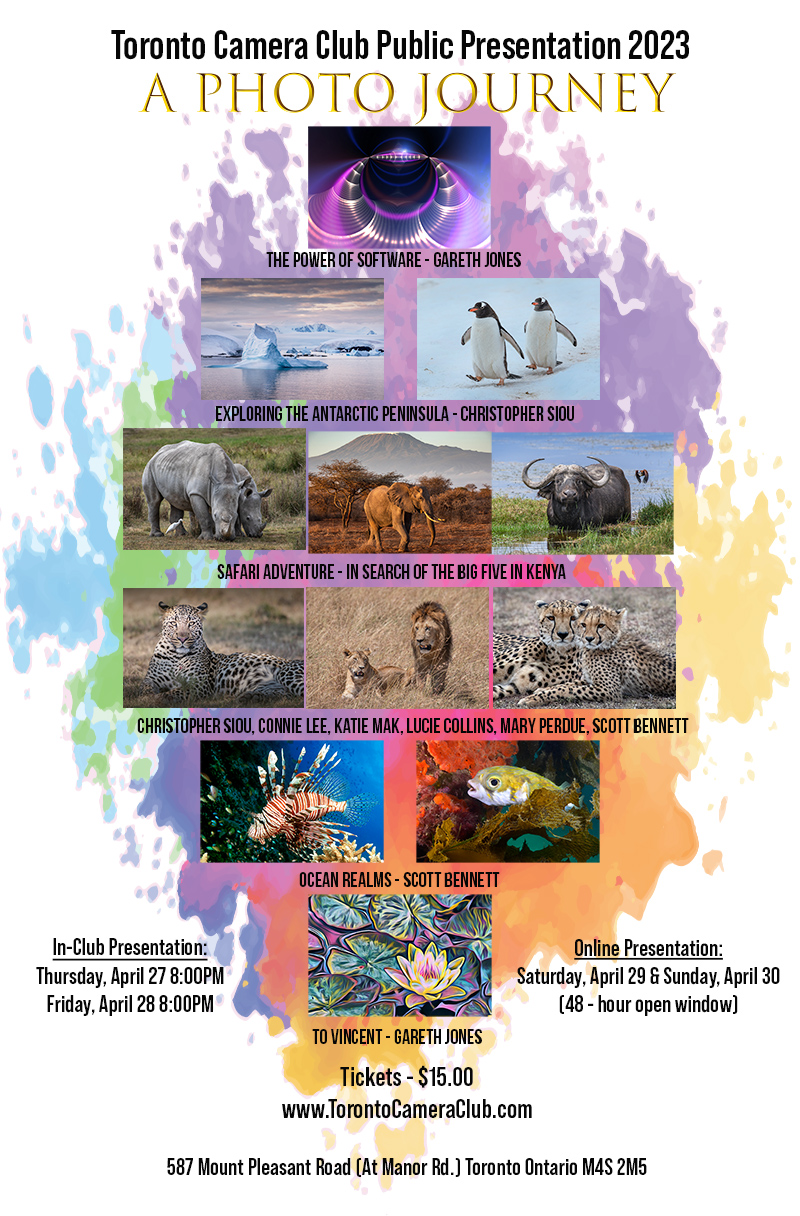 A Photo Journey is a collection of audio-visual presentations showcasing photography and videography, accompanied with music and narration. The three feature shows include an adventurous wildlife photography safari in Kenya, a spectacular expedition in Antarctica, and breathtaking underwater photography from locations across the globe. In addition, this event will present two essays highlighting the boundlessness of creativity in photography.
Format: Your choice – in person or online! Both options are open to members and non-members.
For those who prefer in-person, we are pleased to announce that this event is back live in 2023 for two showings - Thursday, April 27th and Friday, April 28th, beginning at 8:00 pm. This in-club event will include wide-screen viewing, a gallery exhibit, print sales, draws, and door prizes. Seating will be spaced and limited.
For those who prefer online, your ticket will allow you a 48-hour virtual viewing window on Saturday, April 29th and Sunday, April 30th. Over the two days, you may view the video as many times as you wish. This video presentation can be played on any screen that has access to the Internet. For the best experience, use your largest screen, and watch the video in full-screen mode.
Tickets

: $15.00 CDN for Both In-club and On-demand
Ticket Venue/Format
Ticket Links
In-Club Tickets for Thursday, April 27th
Click Here
In-Club Tickets for Friday, April 28th
Click Here
On-demand ticket for Saturday, April 29th and Sunday, April 30th


Extended by Popular Demand, to Sunday May 7th

Click Here
Enjoy the Following Public Presentation Trailers
Presentation and Maker
Short Trailer

Safari Adventure - In Search of the Big Five in Kenya


Christopher Siou, Connie Lee, Katie Mak, Lucie Collins, Mary Perdue, Scott Bennett
Link

Ocean Realms


Scott Bennett
Link

Exploring the Antarctic Peninsula


Christopher Siou
Link
Poster Creation: Ray Anderson, Toronto Camera Club